The Fortune Hunters' previous activities come back to haunt them - the CCCP zeppelin "Workers' Voyage" that Zachary and his gang attacked and eliminated its escort in a previous mission, was finally downed at Pacifica's coast. It is now under siege by a new mysterious pirate gang, the Black Hats, who intend to abduct the passengers and ask for ransom! They are also menacing the Red Cross hospital ship "Compassion" which is attempting to render aid.
Watch Briefing
Edit
Recommended Plane
Edit
Walkthrough
Edit
At the beginning of this mission, 3 boats are attacking the Red Cross hospital ship "Compassion", which is trying to help the downed CCCP Zeppelin "Worker's Voyage", that you crippled in a previous mission! After a while, 6 more boats are descending on hot air balloons. Blow up the boats and the balloons before they land and attack the ship. When you destroy 3 of the 6 balloons, 3 Black Hat Brigands will show up. Ignore them until you destroy all the balloons, because if the "Compassion" is sinked, you fail your mission. Once that set of Black hats are shot down, 3 more balloons will descend and they will be joined by 3 Brigands and Ace Dixon in a Brigand. Get the balloons first, then take out the Ace before you attack the other Brigands. Dock with the Pandora when everything is done.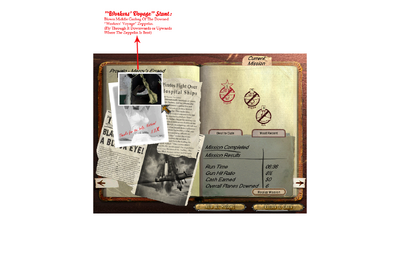 "Workers' Voyage" Stunt:
Blown middle gasbag of the downed "Workers' Voyage" Zeppelin
Ad blocker interference detected!
Wikia is a free-to-use site that makes money from advertising. We have a modified experience for viewers using ad blockers

Wikia is not accessible if you've made further modifications. Remove the custom ad blocker rule(s) and the page will load as expected.