Who says that patying in Colorado after a successful hijack mission is safe? The Black Hats seem to think otherwise, and kidnapped Zachary's and Swan's crew for no obvious reason (yet). While the Black Swan is flying to find any sign of their crews, Nathan Zachary receives an anxious radio call from his Zeppelin driver, Sparks, saying that he managed to board a nearby train, the Rocky Express which is under attack! Once more, the captain needs to pull a "Rolo-the-flying-clown" trick to pick Sparks from the train's roof... all this while Black Hats and Sacred Trust goons, in a sinful alliance, try to rip the train and every enemy plane apart!
Watch Briefing
Edit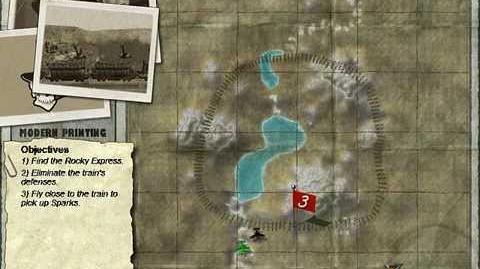 Recommended Plane
Edit
Walkthrough
Edit
3 Brigands and a Brigand Ace show up immediately. Eliminate the Ace first and try to keep the Black Swan around. Once they're gone, the Rocky Express will show up. 4 Hellhounds will attack it right away. If they succeed in destroying it, the mission ends. Try to get one with a couple rockets right off, then try to stay near the train. Once they're gone Sparks will tell you that the train engineers jumped ship. You'll need to take out the turrets to rescue him. If you're going for the stunts do it now, before you destroy the train turrets. There's no real reason, but you feel less guilty. As soon as you destroy the turrets, Sparks will tell you that a stray bullet hit the engine and the train is "about" to explode. This means that right after you pick him up it will explode, but never before you pick him up. This next part is similar to mission 7 where you pick up Ilsa. You need to come in slow from behind the train getting really close and you'll automatically pick up sparks. This one feels harder because they try to rush you with the "about to explode" thing. Don't worry, it won't. As soon as you pick up Sparks the mission ends.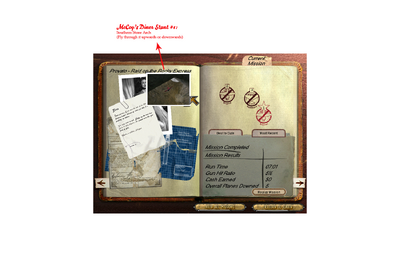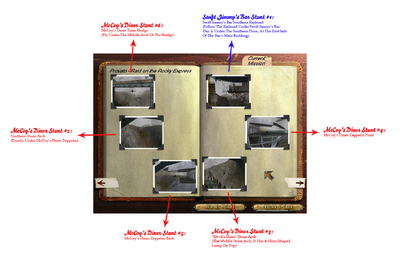 McCoy's Diner Stunts:
Southern Stone Arch
Northern Stone Arch
"Devil's Horn" Stone Arch
McCoy's Diner Zeppelin Front
McCoy's Diner Zeppelin Back
McCoy's Diner Train Bridge
Swift Jimmy's Bar Stunts:
Swift Jimmy's Bar Southern Railroad
Swift Jimmy's Bar Northern Railroad
Under Swift Jimmy's Bar
Cloud 9 Brothel Stunts:
Cloud 9 Brothel Zeppelin
Cloud 9 Brothel Train Bridge
Western Stone Hole
Shangri-La Dance Hall Stunts:
Shangri-La Dance Hall Zeppelin Front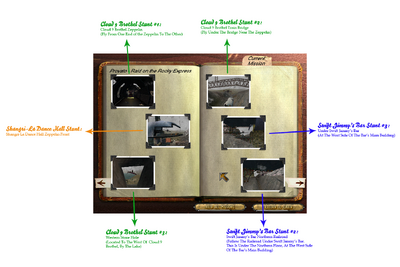 Ad blocker interference detected!
Wikia is a free-to-use site that makes money from advertising. We have a modified experience for viewers using ad blockers

Wikia is not accessible if you've made further modifications. Remove the custom ad blocker rule(s) and the page will load as expected.